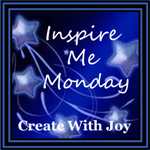 Part of the "
Inspire Me Monday
" series on
Create With Joy
blog and the fact that today is the first day of Autumn, I've decided to give my blog a new fresh look. After searching high and low for something that would make my blog "pop".... In the end, I decided to create a unique one from my Paint Shop Pro program and downloaded brushes from the web.
After all the searching and downloading, I went to work... choosing the background color, cloning leaves onto the design, creating a seamless tile, and other techniques. With the same techniques, I created my Banner. It came together rather nicely when it was placed on the blog.
Time consuming, but fun when you get the results you want. What do you think?